Replenishment

FBA

Inventory

Overseas

FBM

Purchase

1688

Location

Processing

Logistics

Receiving
Replenishment recommendations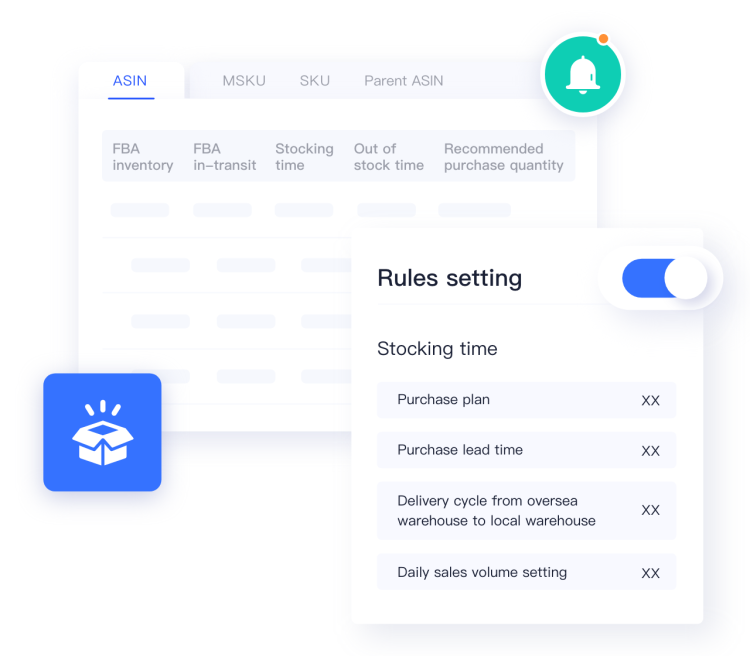 Covers the whole supply chain process, predicts future sales based on 3/7/14/30-day sales data sets, and provides reasonable replenishment recommendations; Intelligently recommends optimal logistics solutions according to the FBA transportation cycle; Shares FBA warehouse, local warehouse, and overseas warehouse data to support multi-site and multi-channel replenishment needs.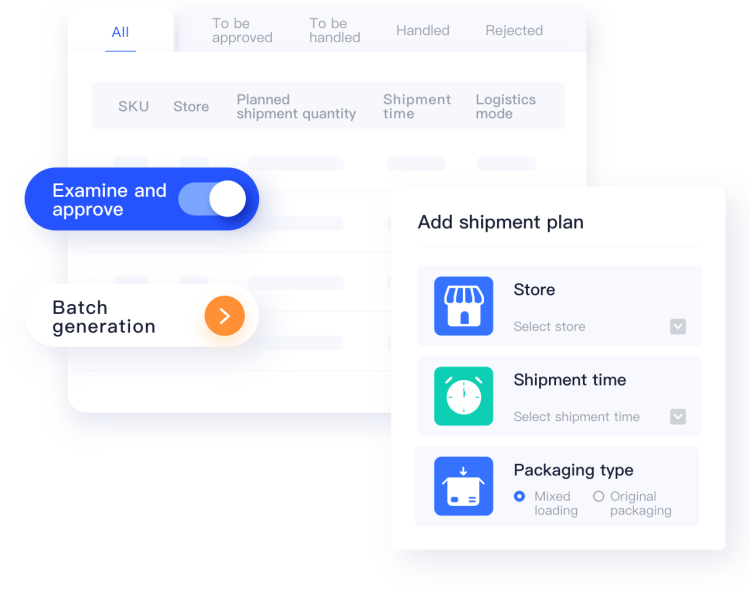 Connects purchase, delivery, and logistics processes to realize simple and fast shipment; Supports direct generation of shipment notes based on shipments or shipment plans, suitable for a variety of shipment scenarios; Allows the merchants to generate a shipment note in excess of the declared quantity; Displays the planned shipment quantity, declared quantity, and shipment quantity on a single table.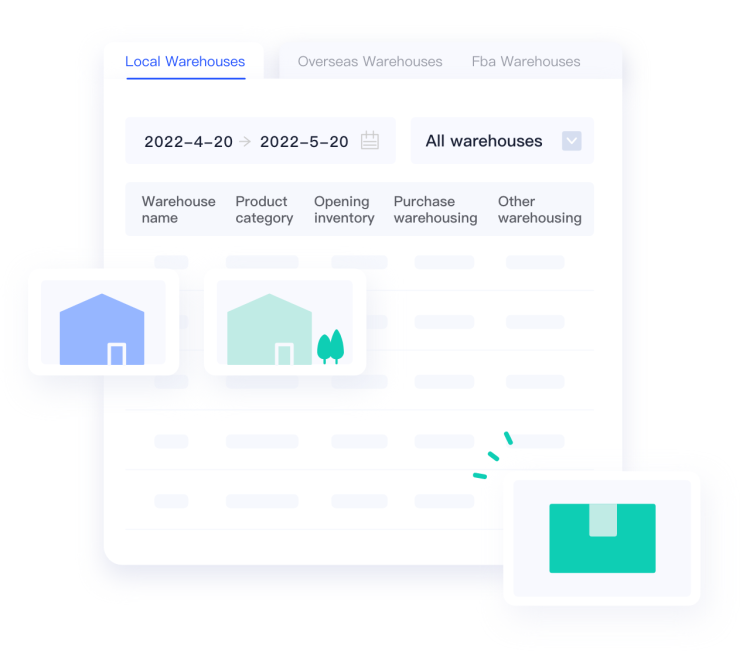 Supports real-time statistics for product inventory, goods value, etc. according to self-built warehouse, FBA warehouse, and overseas warehouse categories; In case of abnormal inventory, profits and losses are automatically calculated; Cost accounting at the beginning and end of the month supports FIFO, reflecting true inventory costs; Comprehensively displays inventory status and solves inventory management challenges.
Overseas warehouse stocking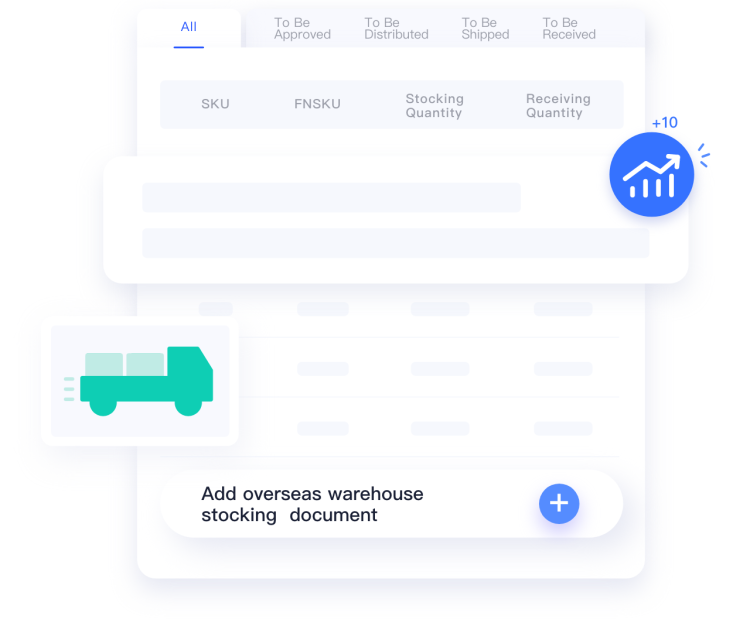 Efficiently manages overseas warehouse stocking processes, displaying stocking, packing, delivery, receipt, etc. at–a-glance. Displays the stock, inventory cost, and other data of overseas warehouses in a single table. FBA costs can be intelligently and accurately allocated according to billable weight, actual weight, weight by volume, etc.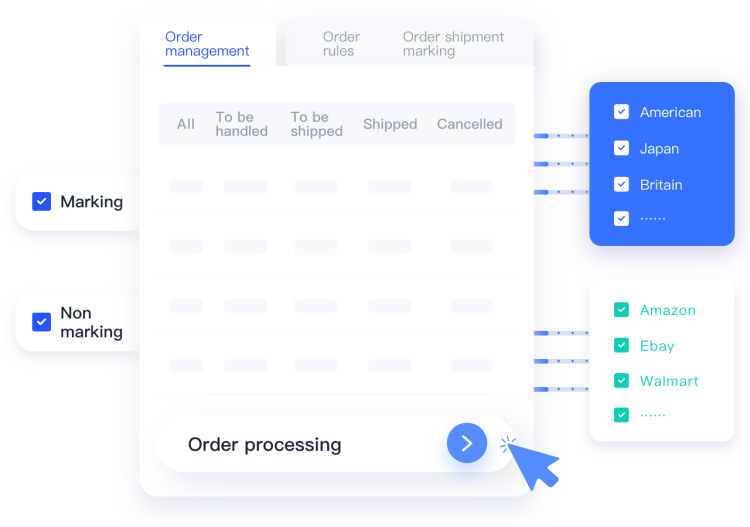 Multiple stores automatically export and summarize orders synchronously, connecting inventory data for flexible arrangement of shipments.  Supports single pick, summary pick, order merges, splits, and transfers to FBA.Connects with Yuntu, Yanwen, 4PX, SF International, and other well-known logistics service provider systems, offering one-click logistics order placement.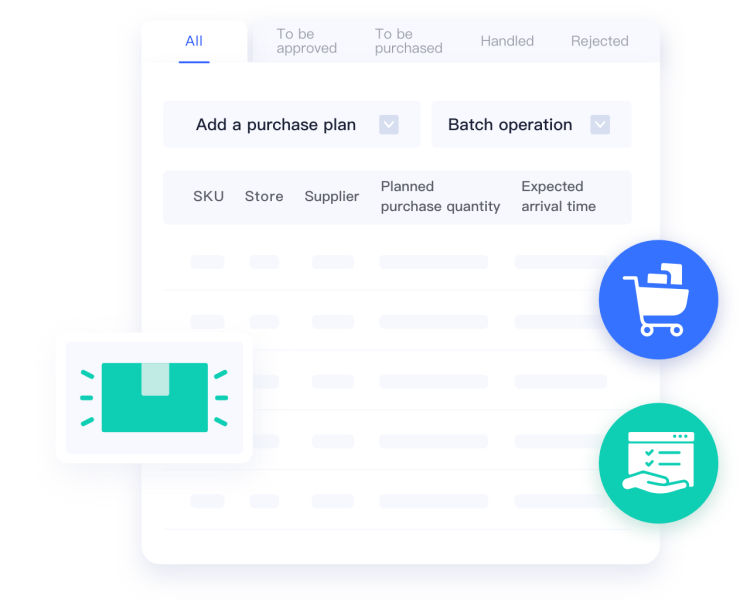 Cooperates effectively with operations and warehouses to flexibly understand and track purchase quantity, arrival quantity, and quality inspection quantity; Supports adding products, modifying product quantities, unit prices, and other purchase changes to meet various purchase needs; Unified collaboration and performance appraisal management of suppliers and customized contract templates to meet purchase needs.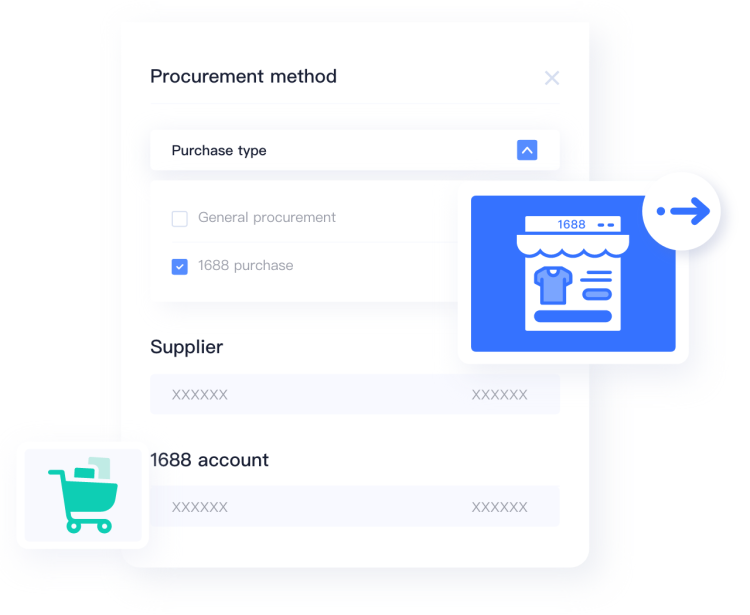 Supports direct orders from 1688, online purchases, supply, distribution, and other needs; Not necessary to switch between multiple systems while ordering and paying, making the purchase process efficient and convenient. Includes 1688 purchase orders in the purchase review process for data-based management capabilities; Timely order status and logistics information synchronization, purchase details can be viewed or managed at any time.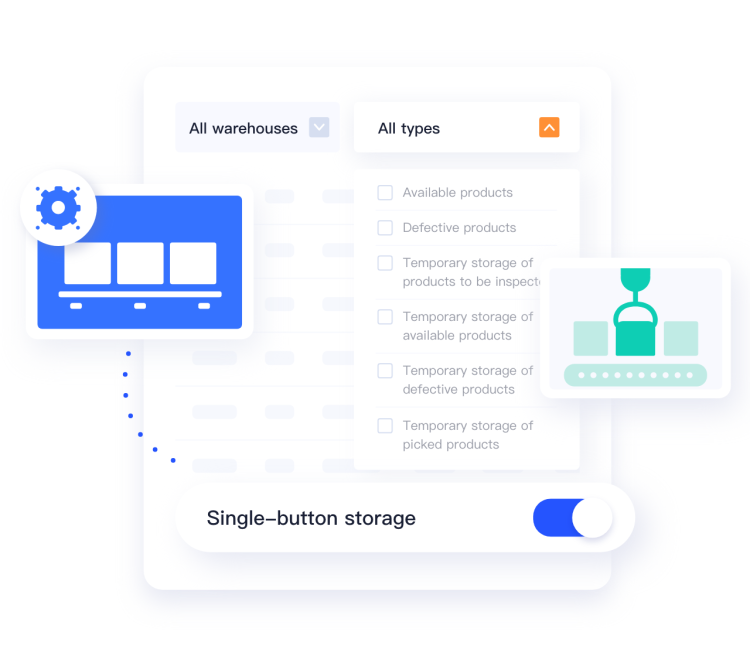 Helps plan, allocate, use, and adjust the storage location of goods and manage materials in an orderly manner; Supports temporary storage space, available space, defective space management, and sequential management of warehouse sending-out space; Single-button storage of temporary storage products and defective products, options for transferring space, enabling full use of space, and improving labor productivity and equipment utilization rate.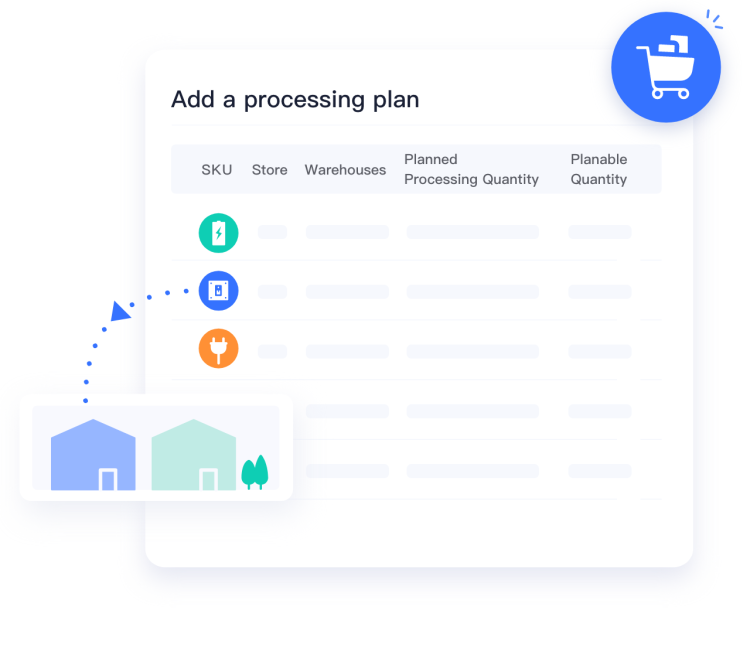 Solves attribution problems before item processing orders are generated and locks stock of items in advance; Supports generating processing plans in a single click from processed purchase plans; Allows batch editing of processing quantity, adding remarks, and flexible release of locked items as needed; Automatically generates expected available quantity and incoming quantity to provide data support for replenishment recommendations.
Integrates management of FBA, FBM, and user-defined logistics, and offers order placement with a single click to efficiently complete logistics distribution. Supports automatic acquisition of tracking numbers and rapid completion of order shipment marks; Customizes templates according to different logistics freight rules for automatically calculation of freight.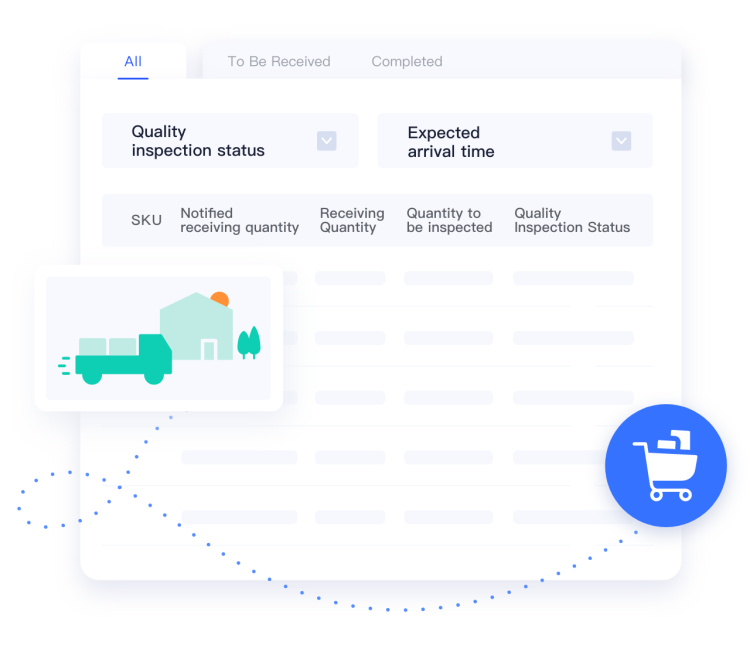 Realizes process management of receiving and supports receiving appointments; Supports scanning logistics document numbers for one-click receipts, and automatically synchronizes purchase platform logistics information; Supports whole warehouse, SKU and warehouse counting, automatically calculates and adjusts the inventory gain and loss, and realizes the information-based management between purchase and warehouse.
300000+
Common Choice of Cross-Border Enterprises
The number of cross-border e-commerce listed enterprises and 100 million scale sellers is leading in the industry
Reduces costs by 20%; Improves conversion rate
What is most helpful to us is Lingxing's advertising management function, which automatically adjusts advertising strategy according to need, saving a lot of time and energy.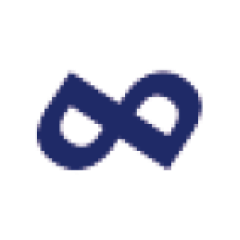 Yeepay
Functions used: Advertising management